VR Goggles Headset for Smartphone
30.93€
Special Feature:
Perfect gift for friends and kids, HD Anti blue light lens, Support wearing glasses, Anti-light leakage
See more
Included Components:
V5 VR Headset
Compatible Devices:
Smartphone
Specific Uses For Product:
Video, Gaming
Item Dimensions LxWxH:
7.1 x 3.3 x 4.1 inches
Warranty Type:
1 year manufacturer
Controller Type:
Button Control
COMPATIBLE PHONE MODELS – DESTEK V5 VR glasses support phones with a GYRO SENSOR (PHONE WITHIN 6.4*3.3*0.39inch L*W*H), such as for iPhone 13/12/11/Pro/Max/Mini/Xs Max/XR/X/Xs, for Samsung S22/S21/S20/S10/S10e/S10 Plus/S9/S9 Plus/S8/S8 Plus/ Note 10 Plus/Note 10/ 9/8/A20e/A50/ (DO NOT FIT iPhone14/14 pro/14 pro max, DO NOT FIT S23 Ultra/S22 Ultra/S21 Ultra/S20 Ultra)

SUPPORTS WEARING GLASSES – Unlike most phone VR goggles, V5 provides universally accepting spaces for most glasses to suit more customer needs. Also, we designed the pupil distance button with a larger range to optimize your visual experience.

EXCLUSIVE AND PERFECT DESIGN – V5 headsets for phone weighs as light as its concise appearance, only 13oz makes it more portable no matter at home or outdoor. T-shaped headband will fit most head sizes (both adults and children), and reduce pressure around the face by adjusting the buckles on both sides.

PERFECT GIFT FOR FRIENDS AND KIDS – Invited your family and friends into your immerse vivid virtual reality world. DESTEK V5 would be a fun way to sample VR and experience some immersive content before diving in deep with expensive headset.

IMMERSIVE 3D EXPERIENCE – Taking into VR games/movies/videos. The 110° field of view makes you feel like an actual climber, not as a mere watcher or viewer. It balances immersion and clarity of view while providing you the most excellent virtual reality view to watch 360-degree video.
DESTEK V5 VR Headset for Phone, for iPhone 13/12/11, Samsung and Android | VR Goggles for Smartphone w/4.7-6.8in Screen (Black)
#VRHeadsetforPhone #VRGogglesforSmartphone #VirtualRealitySystem #VRHeadset #VRBundle #DESTEKV5
---
Product Description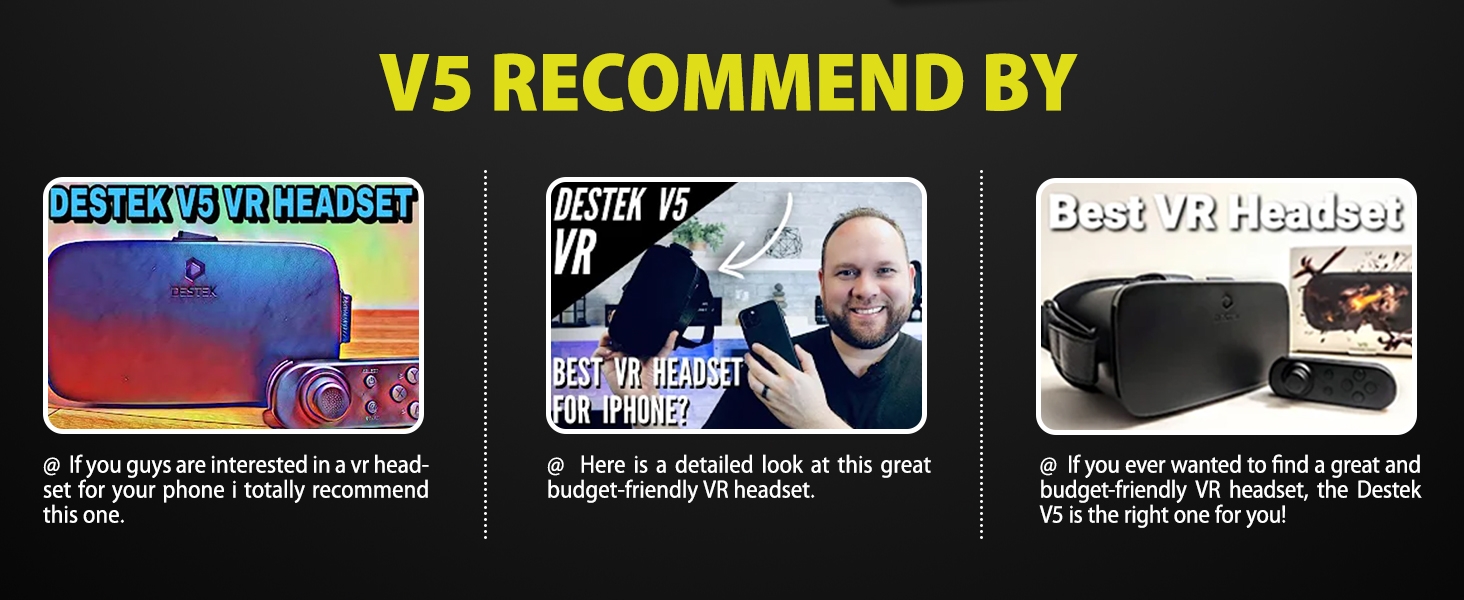 V5 is designed for new to VR before diving in deep with the expensive headset.
DESTEK V5 is a phone accessory serving your rudimentary VR journey.
Oculus is well-developed with advanced hardware and software and its own content ecosystem.
Compatibility
The wide variety of phone screen sizes and different image display sizes of VR applications resulted in different maximum viewing contents. For extended users to get the maximum FOV, the V5 can only rely on the most used cell phone (the iPhone X) to define the focal length and internal VR structure. To make other phones compatible with the DESTEK V5, you need to scan the QR code inside the V5 headset case to get the maximum FOV.
Some VR apps are no longer updated to match new phones
Oculus designed its own screen size, focal lens, and structure to bring the best FOV, and VR games keep updating to be compatible with Oculus.
Image quality: Unlike Oculus' built-in display, which offers 4K-8K resolution, standard smartphones only have a 2K or lower display. The image quality of mobile VR apps and the resolution of smartphones are different and give you a completely different experience.
Not seeing the pixels: What you see on your phone may be crystal clear, but once you place your phone in the headset, the lens will magnify the image to fill the FOV. Improve the resolution of the cell phone and the resolution of the video to get a better image experience.
VR game entertaining: The VR mobile app industry is stagnant with a few relatively decent apps from the limited App Store or Google Play Store, while Oculus benefits from its huge investment in hardware.As a result, more reputable game companies are developing entertaining games with their powerful hardware and software.
Interactivity: The V5 VR headset could not afford to develop real-time tracking touch hand controllers like Oculus, because we cannot afford the huge development costs, and mobile VR apps do not support such controllers either.
VR Headset for Phone, VR Goggles for Smartphone, Virtual Reality System, VR Headset, VR Bundle, DESTEK V5,
#VRHeadsetforPhone #VRGogglesforSmartphone #VirtualRealitySystem #VRHeadset #VRBundle #DESTEKV5
| | |
| --- | --- |
| Weight | 1.1 lbs |
| Dimensions | 7.1 × 3.3 × 4.1 in |
| Product Dimensions | 7.1 x 3.3 x 4.1 inches |
| Item Weight | 1.1 pounds |
| ASIN | B0C1ZQDMXN |
| Date First Available | April 10, 2023 |
| Country of Origin | China |
| Manufacturer | SHENZHEN XINLIANYOUPIN TECHNOLOGY CO.,LIMITED |
Only logged in customers who have purchased this product may leave a review.