Archive
What is the Best Option to Host your WordPress
After years of experience managing WordPress websites, I found the best combination to have them secured hosted and 100% up online, this is: VULTR – SERVERPILOT
Vultr, founded in 2014, is on a mission to empower developers and businesses by simplifying the deployment of infrastructure via its advanced cloud platform. Vultr is strategically located in 16 datacenters around the globe and provides frictionless provisioning of public cloud, storage and single-tenant bare metal. Get your account Here: VULTR
ServerPilot is a cloud service for hosting WordPress and other PHP websites on servers at Vultr, DigitalOcean, Linode, Rackspace, or anywhere else. You can think of ServerPilot as a modern, centralized hosting control panel. Get your account Here: ServerPilot
Need help Publishing on the Internet? Contact us: rodulfox.com
Luckin Coffee, which is growing rapidly thanks to a focus on cheaper drinks, priced its initial public offering on the Nasdaq at $17 a share. That was at the high end of its range and it values
Luckin Coffee
(LK)
at more than $4 billion. Luckin raised more than $570 million from the stock sale.
Luckin Coffee has quickly taken China by storm. The company, which was founded in October 2017, already has nearly 2,400 stores in 28 cities. That makes it second only to
Starbucks
(SBUX)
in China.
But Luckin Coffee is likely to soon pass its larger rival. Luckin Coffee has plans to open 2,000 additional stores in the country by the end of the year, bringing its total to about 4,500 locations.
It's an ambitious goal, especially since Chinese consumers aren't addicted to coffee as much as drinkers in the United States and other nations are. Tea is the beverage of choice.
Taking China by storm with cheaper coffee
Luckin Coffee cited data from consumer research firm Frost & Sullivan in its IPO filing with the Securities and Exchange Commission that showed Chinese consumers drank only six cups of coffee a year in 2018, compared to 279 for Japan, 388 in the US and a whopping 867 in Germany.
But Luckin Coffee is hoping that the popularity of Starbucks in China, coupled with Luckin Coffee's plans to offer less expensive brews, will quickly create more coffee drinkers in mainland China.
After all, Frost & Sullivan said that consumers in nearby Taiwan and Hong Kong each drink more than 200 cups of coffee a year.
Still, Luckin Coffee is tiny compared to Starbucks, which plans to expand even further in China as the US market matures. And like many other startup firms that have recently gone public — including
Lyft
(LYFT)
,
Uber
(UBER)
,
Pinterest
(PINS)
and
Beyond Meat
(BYND)
— Luckin Coffee is bleeding red ink.
The company reported a net loss of $241.3 million last year on sales of just $125.3 million. Luckin Coffee lost another $82.2 million in the first quarter of 2019 on revenue of only $71.3 million.
Luckin will lose money to gain market share
Luckin Coffee says this trend will continue, as it plans more store openings and increased marketing while also keeping its coffee prices more affordable in order to steal customers from Starbucks.
"We intend to further increase our brand awareness, expand our customer base and store network, and expect to continue to invest heavily in offering discounts and deals," the company said in its SEC filing.
Luckin Coffee chief financial officer Reinout Schakel reiterated this in an interview with CNN's Julia Chatterley on Friday. He said the company wants to "help people save money."
Schakel added that the company is investing a lot on technology and is confident that these investments will help keep costs down for the long-term.
He said the goal is to offer "high quality coffee for a much more affordable price and still become profitable."
"The market is in its infancy. I think there's a huge opportunity" Schakel said, adding that coffee in China is now viewed as more of a luxury product and that Luckin Coffee wants to make it "a part of everyday life."
Chinese consumers love the coupons
He also brushed off concerns about the trade war with the United States, saying that because the company already does a good job of keeping costs low and is selling its coffee at a discount to Starbucks, there should be little impact on its sales and customer base.
To that end, Chinese consumers in Beijing told CNN that price is one of Luckin Coffee's biggest selling points.
"It has great value. A Starbucks coffee usually costs around 40 yuan (nearly $6 USD). Here we use coupons a lot. It's usually around 20 with discounts. So value is the first consideration," said Terasa Wang, a sales manager.
Shilu Wang, a director and producer, added that she was first attracted to Luckin Coffee "because it gave me lots of coupons, like the first free orders. No other coffee brand does that." She added that "the taste is good for the price" and that delivery was fast.
So it looks like Starbucks is going to have a tough battle with Luckin Coffee for the foreseeable future.
— CNN's Serenitie Wang contributed to this report.
AMARILLO,Texas (KAMR/KCIT) – The Panhandle Wild Hogs held their 8th annual Blaze Coffee Benefit ride on Saturday, May 18.
Proceeds from the ride go toward a new bloodmobile for the Coffee Memorial Blood Center.
"We do this for Coffee Memorial and they understand the cause and the need of why we're doing this," Terry Coffee, Panhandle Wild Hogs member, said.
Coffee's life was changed when his son, Blaze, was severely injured in an industrial accident eight years ago and later died.
Now, Coffee and other members of the Panhandle Wild Hogs help to give back to those who helped them.
"Coffee Memorial was very instrumental with me and my wife whenever Blaze was in the hospital, so we decided to keep it with Coffee Memorial," Coffee said.
The event is meant to raise money and riders are encouraged to have fun doing it. 
"We make it so they have a short ride and then we have a lot of prizes that we give away," Coffee explained.
Participants say donations have been given to the right place, and for the right reason. 
"Blood is the one thing that everybody has and we want it to be available if they need it," Sace Hardman, a Panhandle Wild Hogs member, stated.
Riders hit the road in memory of Blaze and continued to look forward to what they can contribute. 
"Because of Coffee Memorial Blood Center, his family was able to spend a few more days with him. We do it to honor him and also to help Coffee Memorial Blood Center out," Hardman stated.
The group estimated over 200 people were in attendance at the event.  Door prizes were also given out during a raffle, most of which were donated by local businesses.
Throughout the event's eight years, over $50,000 has been given to Coffee Memorial.
An employee of NETA in Brookline shows off some of the store's product called Bruce Banner. The Cannabis Control Commission narrowly approved a pilot program that will allow some establishments to become pot cafes, where people can smoke the product in addition to purchasing it. (Nancy Lane / BOSTON HERALD)
Pot cafes have moved closer to sprouting up all around Massachusetts with the cannabis commission's narrow approval of the controversial concept.
The board voted 3-2 Thursday to allow a social consumption pilot program for a dozen such cafes, despite lingering concerns about stoned driving from police chiefs and legislators.
"Until we have mechanisms in place to detect individuals driving while inhibited by marijuana, this is dangerous," Chelsea police Chief Brian Kyes told the Herald. "We're definitely concerned."
Pot panel members said the cafes will initially be limited to economic empowerment businesses — low-income areas targeted to boost opportunity — along with micro businesses and co-ops.
The pilot program can't start until regulations are established, which could be voted on at the end of the month or could be pushed back until the fall. The pilot as it currently stands allows for up to 12 cities — who elect to join — to award cafe licenses once regulations are officially put in place.
While commissioners are still working out details around ventilation, marijuana is only allowed to be smoked outside at the cafes. Certain vapes and edibles would be permitted inside.
Commissioner Britt McBride, who voted against the plan along with Commissioner Jennifer Flanagan, expressed concern about approving cafes before the state takes a deeper dive into police enforcement of drugged drivers.
"I continue to have concerns that the sequence of this is all wrong," McBride said at the commission meeting. "I don't think that we should be allowing social consumption unless and until the state addresses the ability to better detect marijuana impairment. … The potential for harm outweighs the potential for good that could come out of us moving ahead with this."
Mike Crawford, a cannabis reform activist and former member of MassCann/NORML, said cafes would take pot users — who he says are currently smoking inside their cars to prevent potential evictions in their apartments — off the road.
"The more places we provide, the less chances people will drive," Crawford said. "This is an important issue. People have to have a place to smoke. The more local access we have, the less stoned driving."
Tito Jackson, a former Boston City Councilor and mayoral candidate who is the CEO of a marijuana company, agreed.
"We have a precedent for social consumption — it's called a bar, it's called a restaurant," Jackson said. "There's a real opportunity to have a thoughtful regulated industry here. Massachusetts is not the first to legalize this."
wPot cafes are allowed in Alaska, Denver, Las Vegas and a few cities in California.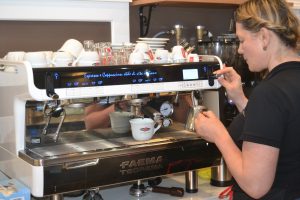 By Abby Luby
Dolce Vita in Italian means "Sweet Life." And in the hamlet of Yorktown Heights, sweet comes by way of a new café, appropriately named Dolce Vita Café. Think traditional Italian cakes such as Tiramisu, Ricotta and Pistachio Cake, Cannoli, Tartufo Cake Cappuccino complemented with Cappuccino, Cafffe Lattes, or Chia Latte Tea.
The café's grand opening was Saturday, May 18 at 1877 Commerce Street at Underhill Plaza. Owners are wife and husband Anduela and Marsel Prela who purchased the storefront in December 2018. They spent about four months renovating it to accommodate about 50 people. The space is bright and airy, especially when the floor to ceiling front window opens out to the sidewalk lending to a street café feel. Soft lighting, marble top tables and deep green velvet couches give the café a relaxed atmosphere.
The café's soft opening was on May 7 and since then there's been a steady flow of customers. "We've been busy every afternoon and evening since our soft opening," said Mrs. Prela. "Now we know when the busiest times are and what people like to eat. People have asked for certain breakfast dishes and we want to adapt to our customers' requests."
When no one was showing up at 6 a.m., the Prelas changed their hours and opened at 8 a.m. They close at 10 p.m.
Marsel Prela owns a construction business and Anduela Prela teaches middle school in the Bronx. This is the couple's first venture into the restaurant business and running the family owned café is Marsel's sister, Arta Prela. All pastries are made by Bindi, an internationally known Italian dessert company whose Arthur Avenue distributor delivers to Dolce Vita Café once or twice a week. About 20 cakes on the menu include carrot cake, red velvet and cannoli, to name just a few. Also on the menu is the Albanian pastry Byrek, which is a rolled filo pastry filled with spinach and cheese. Summer drinks include cold flavored frappuccinos, smoothies and iced coffee. There are several flavors of Gelato.
Although the Prela family is Albanian, they have lived in Westchester for more than a decade and are currently Yorktown residents. Anduela and Marsel Prela have a daughter in third grade at Brookside Elementary School in Yorktown and a baby boy just born on March 6.
The idea of having a special eatery to imbibe a good cup of cappuccino along with a delicious dessert came after the closing of TWIST Frozen Yogurt & Sweet Shop in Yorktown's Roma building. "We realized there was no place to go for a sweet dessert, especially a place that was kid friendly. Dolce Vita Café is a place where you can meet a friend in the afternoon or have a nice dessert after going out for dinner," Mrs. Prela said.
She said future plans may include some type of live entertainment to add a certain ambience. "But for now, the café has much appeal."