Archive
What if a coffee subscription actually learned what types of coffee you liked and then sent you those coffees on a regular basis? It would be like Pandora, but for coffee—and you know, would also work, unlike whatever that Music Genome Project does. That's the idea behind Trade Coffee, a coffee subscription service that tailors what it sends to each customer based upon their feedback from coffees past.
It's a very cool concept, having over 400 coffees available to choose from when picking the best coffee for an individual. Except when you have a single coffee that will be at the top of everyone's wish list. In this case, that coffee is a Trade-exclusive offering roasted by none other than Shelby Williamson, the head roaster at Denver's Huckleberry Roasters and the 2019 US Roasters Championship.
The coffee—Trade's first exclusive—is a Bourbon variety that comes from the Gitwe mountain in Burundi's northern Kayanza province. Sourced through the Long Miles Coffee Project, the wash processed Gitwe with "notes of cola and a veritable rainbow of fruit flavors."
This isn't the first time Trade and Williamson via Huckleberry have collaborated. As Trade's Director of Coffee Erika Vonie tells is:
Every so often, excellence and story intersect into an overall experience that deserves even more attention… I had the pleasure of meeting Shelby last year when I traveled to Colorado for Coffee Fest Denver, and to say she's enthusiastic about quality is an extreme understatement. Shelby let us tag along for a day in the life of a roaster and she dropped this gem, "Roasting isn't the most glamorous job, though on Instagram it looks like we stop just short of coffee deities."

Unbeknownst to Shelby, a few short weeks later she would take home the top title at the United Stated Roaster Championship, thus solidifying herself as a coffee deity. Shelby's tenacity for roasting and her commitment to quality shine through in every bag Huckleberry sends us and every coffee they roast for you. Her reign is entirely deserved, which makes our latest project especially, well, special.
Only 500 bags of the Trade-exclusive Burundi Gitwe from Huckleberry Roasters and Shelby Williamson will be made. They are available for purchase via Trade's official website for $21.50 per 12-ounce bag. Or, if you choose to subscribe, you can take 30% off your first order as well as receive free shipping. Not a bad deal for getting to taste a very cool coffee roasted by one of the best roasters in America. For more information, visit Trade Coffee's official website.
Zac Cadwalader is the managing editor at Sprudge Media Network and a staff writer based in Dallas. Read more Zac Cadwalader on Sprudge.
Top image via Trade Coffee
Disclosure: Trade Coffee is an advertising partner with the Sprudge Media Network
---
Why Maslow by Juan Rodulfo
Why Maslow? How to use his Theory to stay in Power Forever by Juan Rodulfo
Did you know that: The 1996 World Summit on Food Security declared that "food should not be used as an instrument for political and economic pressure". According to the International Center for Trade and Sustainable Development, failed agriculture market regulation and the lack of anti-dumping mechanisms cause much of the world's food scarcity and malnutrition.
"Before a student's cognitive needs can be met, they must first fulfill their basic physiological needs. For example, a tired and hungry student will find it difficult to focus on learning. Students need to feel emotionally and physically safe and accepted within the classroom to progress and reach their full potential."
Why Maslow: How to use his Theory to Stay in Power Forever by Juan Rodulfo
News of positive growth took the main stage Wednesday at the monthly Kaffee Klatch, though there were bits of serious news too.
Noel Gorden, the dean of the Indian Hills Community College Centerville campus, took time to share with attendees the previously reported suspension of the nursing program on the campus. She said efforts are being undertaken quickly by her and other college officials to find ways to recruit more students, so the program can be restarted in summer 2020.
Good news, though, is that the high school health sciences program will not only continue but is expanding. For the first time, the college will be offering two sections of the first year class — one in the morning and one in the afternoon.
Gorden said last week's numbers show the morning class with 24 students and afternoon section with 12 students. The capacity for each is 25.
"We expect that those numbers will climb and that we'll get the maximum we can serve," Gorden said. "It looks like we're going to have that."
Dirt will be moving at the Centerville industrial park this year, and in one case already has. Appanoose Economic Development Corporation director Sarah Lind reported C&C Machinings' expansion, which was reported in Thursday's Daily Iowegian.
That isn't the only thing new for the industrial park, however. Lind also reported that RAW Metal Works will be closing soon and will be expanding their business to land at the park.
The certified site at the park is the most significant land available currently.
Main Street Director Mary Wells said response far exceeded expectations for the recent "Top Prospects" survey for market analysis. More than 1,100 responses were submitted, more than a 384-response requirement.
The survey returned restaurants as the number one desired business under the establishment category, and clothing and accessories took the top spot under the retail category. The survey asked respondees what their top wants were for the Centerville area.
Natel Broadband also announced they will be expanding their service to the Moravia and Mystic areas, an area they said has been underserved when it comes to high-speed internet, which they provide.
Other notes:
• The City of Centerville will be holding city-wide cleanup days. The area north of Highway 2 in town will be collected on May 13 and 14. The area south of Highway 2 will be collected May 20 and May 21. No yard waste, hazardous materials, tires or televisions will be accepted. The north side should have their items placed curbside no later than 7 a.m. on May 13, and south side residents should have their items out by 7 a.m. on May 20.
• The recreational season has started at Rathbun Lake, with campgrounds Island View and Bridge View opened on May 1. DNR-managed campgrounds at Buck Creek and Prairie Ridge will open over the next two weeks.
• New Appanoose County Engineer Brad Skinner was introduced, as he was into the second week on the job. Skinner's most recent job was as the county engineer of Montgomery County. Skinner said the move to Appanoose County is to be closer to his family.
It was a long night, to be fair.
By Luke Reilly
Eagle-eyed Game of Thrones viewers have spotted a rogue disposable coffee cup that has somehow made it into the final cut of the latest episode of season 8, The Last of the Starks.
The wildly anachronistic beverage vessel is easy to miss in a dimly-lit scene where just about everyone on screen is quaffing from some kind of cup, mug, or oversized horn, but it's there nonetheless; parked directly in front of a slightly dour-looking Daenerys.
Error or Easter egg? If no one raises their hand on this one we'll presumably know when the Blu-ray is released.
In the meantime, head here for IGN's thoughts on today's episode, and check out a glimpse of what's in store for next week here.
Luke is Games Editor at IGN's Sydney office who isn't really precious about film and TV goofs like this. You can find him on Twitter every few days @MrLukeReilly.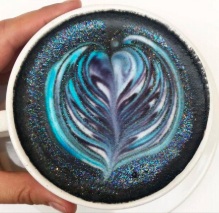 A dash of glitter and an abyss of smoky black froth swirls around in a glossy white mug accompanied by a delicate golden teaspoon. The fresh vanilla scent and the laughter of other customers creates a homey feeling.
That dash of glitter and abyss of smoky black froth aren't the first things that come to mind when drinking coffee. For customers at Limitless Coffee & Tea, it's the cup of Joe that can't stop customers from coming in every day.
Limitless Coffee & Tea has four locations all in the heart of downtown Chicago. If it's not obvious, they're a café that sells artistic coffee, tea and pastries. The latte that would be considered their starchild is the charcoal latte. This piece of art isn't complete without the added glitter, which is an additional 50 cents that most will shell out to get their Instagram- worthy photo or 10.
Charcoal-based products are starting to make their way to shelves for everything, from charcoal toothpaste to facemasks, and now decorative latte art. Most people like to take pictures of them and put them on social media. Many cafes around the country have jumped on the bandwagon and started making them. Instead of being warded off by the unusually pretty color and design, they keep drawing customers and coffee fanatics in. Rather than just making the latte look aesthetically pleasing, there are also some benefits to that dark, deep charcoal abyss.
According to WebMd, activated charcoal is used to treat poisonings, reduce intestinal gas, can prevent hangovers and lower cholesterol levels. It's also used for healing wounds.
Amanda Kaplan is the marketing manager at Limitless Tea & Coffee. She said there are many benefits to adding charcoal to lattes.
"Activated charcoal works by trapping toxins and chemicals in the gut, preventing their absorption," Kaplan said.
Kaplan also said the texture is porous, so it's good for cleaning and whitening teeth, which explains why charcoal toothpaste has become a thing.
"It is our No. 1 Instagrammed drink, and people show the barista our Instagram when ordering," Kaplan said.
When it comes to food allergies, there's no concerns here because charcoal is beneficial for health and it's a natural product. For those interested in grabbing a smoky black latte, the type of milk you use could alter the design of the latte.
" Any milk tastes amazing with it," Kaplan said. "But the easiest drink to do latte art with is whole milk."Whole milk is denser than nonfat, almond or soy milk. The denser the milk, the better the latte art will turn out.
Kaplan couldn't answer some questions, such as how it's made, due to the company's privacy policies, but the mystery behind it stirs up more excitement for customers.
For the lactose-intolerant and vegans of the Chicago area, don't fret; they also have oat milk and almond milk at every location. Ana Diaz was one the many customers who stopped in for a charcoal latte. Diaz didn't know what to expect because this was her first time ordering one.
"I'm almost scared to drink it," Diaz said. "I know it's not bad for me or anything, but I've never had one before and didn't even know you could ingest charcoal like this."
"Of course I took a hundred pictures
of it already, my cousin and I came here because we've been seeing a lot of pictures of these pretty lattes on the Instagram explore page and noticed that a lot of cafes sell them, so we found this one and wanted to give it a try," Diaz said.
Diaz took a few sips of her latte. "I keep checking my teeth," she said. "I feel like my lips and teeth are going to be glittery and black after this so next time I'll bring a little toothbrush."
Jenn Nowak has been to several cafes that serve charcoal and glitter lattes.
"I don't really have a favorite and the taste is pretty standard to a vanilla latte, but I try to tell myself it's a little healthier because of the benefits charcoal has," Nowak said.
"I can see why the color and even the glitter is off-putting for some people, it's like a visual thing and it makes them hesitant to drink it," Nowak said.
"For first-timers, they might think, 'Why am I eating art supplies?' when they see the glitter," Nowak said.
Nowak remembers she was hesitant the first time she had one.
"The first time I tried one I kept making my friends reassure me that they were safe to drink, not that they would know, it's not like they're baristas or anything but I won't lie, I was thrown off at first," Nowak said.
The latte itself doesn't have an unusual taste like most would expect.
"I think the thing people don't get is that it just tastes like vanilla," Nowak said. "It doesn't taste funny and I'm willing to spend like $7 for a latte every now and then just because it's fun and much prettier than an average old latte at Starbucks or Peets."